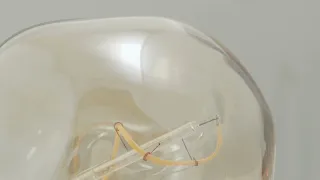 Tala Voronoi III LED Light Bulb, 5W E27
Product Info
Delivery & Returns
Reviews
Product Info
Inspired by various aspects of the environment, the Voronoi III LED light bulb by Tala is a real masterpiece of design and perhaps the largest sculptural bulb ever made. The mouth blown glass is modelled after the canopies of the forest, whilst the curved features in the filament are inspired by the Fibonacci sequences, or natures numbering system, found in the pinecones and ferns on the forest floor and the leaf arrangements on the forest trees.  Best paired with the Tala Brass or Walnut Pendant, display in clusters of three for maximum impact.
Please see specifications here
Responsibly designed in London, Convert to low-energy, efficient LED and help reduce energy use
Dimensions
19.5 x 34.4 cm
Features
Dimmable LED Filament
Edison Screw Base Cap
Reduce Energy Use by up to 90%
Specifications
Equivalent incandescent power - 22W
Input voltage - 220V-240V
Working temperature - -5°C – 40°C
Colour temperature - 2,200
Manufacturers Warranty
Fixtures - 2 Years provided that no modifications have been made &ndash e.g. cable length
Bulbs - 3 years
Delivery & Returns
| | |
| --- | --- |
| UK Delivery Service | Cost |
| Standard UK Delivery (2-5 days) | £4.95 or Free for orders over £50 |
| Express Delivery (Order before 2pm) | £7.95 |
Standard Delivery
We offer Standard Delivery across the UK via Royal Mail. Standard Delivery is FREE for orders with a goods value of over £50. For orders with a goods value of less than £50 we charge a flat fee of £4.95.
Standard Delivery means that our aim is that for all orders received before 2pm Monday to Friday (excluding Bank Holidays) we will despatch on the same day with your order delivered within the next 2 to 5 working days. (Subject to external factors such as severe weather).
Express Delivery
We offer Express Delivery within mainland UK via DPD. Delivery is £7.95 and orders must be received before 2pm.
Lead Time Delivery
Lead Time Delivery applies to items that are available for sale, but are not held in our warehouse and cannot be immediately despatched. 
An estimated delivery lead-time is quoted on the product page, and will also be confirmed by email shortly after an order is placed.
In most instances, lead-time items will be delivered by Royal Mail. In the instance of larger / furniture items, the delivery may be carried out by a White-Glove Courier.
Lead Time Delivery is free for orders with a goods value of over £50. For orders with a goods value of less than £50 we charge a flat fee of £4.95.
For more information please see our Delivery Information page here
International Delivery
Due to the rapidly changing situation around COVID-19 and the borders to Europe, we have temporarily paused shipping to Europe & Republic of Ireland.
View our International Delivery options here 
Returns
For information on Returns please see here
Reviews