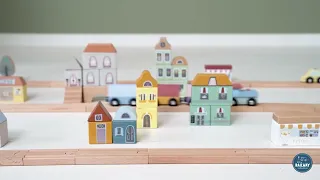 Little Dutch Railway Train XL Set, Starter-kit
Product Info
Delivery & Returns
Reviews
Product Info
Provide your little one with the gift of endless adventures as they create their railway track from more than 100 parts. The Little Dutch Railway Train XL Starter Kit contains wooden train track pieces, plenty of vehicles, and lots of charmingly decorated figurines including buildings, trees, and people. This starter set is guaranteed to spark their creative side as they will be able to build something different every time they sit down to play. The additional playsets are available to offer even more possibilities when your child is using their imagination to construct rail networks, towns, and more. Crafted from durable, sustainably sourced certified wood.
Material
Wood
Minimum Age
3+ years
Not suitable for children under 3 years due to small parts. Choking hazard. Before giving the toy to your child, remove and dispose of all packaging materials that are not part of the toy and keep these out of reach of children. Regularly check the toy for signs of wear and tear and damage. Should any part be damaged, do
Features
108 Parts
Features a locomotive with three cars, straight rails, curves, a bridge, various buildings, cars, people, trees, flower boxes, road signs, lamp post, traffic light, bus, ice cream truck, dog and a bicycle.
Dimensions
145 x 85cm
Delivery & Returns
| | |
| --- | --- |
| UK Delivery Service | Cost |
| Standard UK Delivery (2-5 days) | £4.95 or Free for orders over £50 |
| Express Delivery (Order before 2pm) | £7.95 |
Standard Delivery
We offer Standard Delivery across the UK via Royal Mail. Standard Delivery is FREE for orders with a goods value of over £50. For orders with a goods value of less than £50 we charge a flat fee of £4.95.
Standard Delivery means that our aim is that for all orders received before 2pm Monday to Friday (excluding Bank Holidays) we will despatch on the same day with your order delivered within the next 2 to 5 working days. (Subject to external factors such as severe weather).
Express Delivery
We offer Express Delivery within mainland UK via DPD. Delivery is £7.95 and orders must be received before 2pm.
Lead Time Delivery
Lead Time Delivery applies to items that are available for sale, but are not held in our warehouse and cannot be immediately despatched. 
An estimated delivery lead-time is quoted on the product page, and will also be confirmed by email shortly after an order is placed.
In most instances, lead-time items will be delivered by Royal Mail. In the instance of larger / furniture items, the delivery may be carried out by a White-Glove Courier.
Lead Time Delivery is free for orders with a goods value of over £50. For orders with a goods value of less than £50 we charge a flat fee of £4.95.
For more information please see our Delivery Information page here
International Delivery
Due to the rapidly changing situation around COVID-19 and the borders to Europe, we have temporarily paused shipping to Europe & Republic of Ireland.
View our International Delivery options here 
Returns
For information on Returns please see here
Reviews