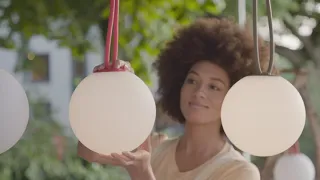 Fatboy Bolleke Outdoor Light
Product Info
Delivery & Returns
Reviews
Product Info
The Bolleke Outdoor Light form Fatboy, is a portable, cordless and rechargeable lamp. With three different dimmer settings, this globe shaped light is the perfect way to brighten up your evenings activities whilst camping, during festivals or garden parties or generally just hanging out.
The flexible silicone loops can be easily manipulated into hanging onto a branch or a bar, or any secure overhead point. On the base of the lamp are silicone buttons which can be used to adjust the light settings. The light also has a USB cable for recharging.
Available in 4 different colours, Bolleke is a stylish and joyful addition which will give you great flexibility to transport light wherever you need it.
Dimensions
Ø:20cm
Material
HDPE
Weight
600gr
Care
Wipe clean with a moist cloth or water
Charging
USB Cable for charging anywhere
Delivery & Returns
| | |
| --- | --- |
| UK Delivery Service | Cost |
| Standard UK Delivery (2-5 days) | £4.95 or Free for orders over £50 |
| Express Delivery (Order before 2pm) | £7.95 |
Standard Delivery
We offer Standard Delivery across the UK via Royal Mail. Standard Delivery is FREE for orders with a goods value of over £50. For orders with a goods value of less than £50 we charge a flat fee of £4.95.
Standard Delivery means that our aim is that for all orders received before 2pm Monday to Friday (excluding Bank Holidays) we will despatch on the same day with your order delivered within the next 2 to 5 working days. (Subject to external factors such as severe weather).
Express Delivery
We offer Express Delivery within mainland UK via DPD. Delivery is £7.95 and orders must be received before 2pm.
Lead Time Delivery
Lead Time Delivery applies to items that are available for sale, but are not held in our warehouse and cannot be immediately despatched. 
An estimated delivery lead-time is quoted on the product page, and will also be confirmed by email shortly after an order is placed.
In most instances, lead-time items will be delivered by Royal Mail. In the instance of larger / furniture items, the delivery may be carried out by a White-Glove Courier.
Lead Time Delivery is free for orders with a goods value of over £50. For orders with a goods value of less than £50 we charge a flat fee of £4.95.
For more information please see our Delivery Information page here
International Delivery
Due to the rapidly changing situation around COVID-19 and the borders to Europe, we have temporarily paused shipping to Europe & Republic of Ireland.
View our International Delivery options here 
Returns
For information on Returns please see here
Reviews